Info about Mazury Lakes Region
Masuria and the Masurian Lakeland are known in Polish as Kraina Tysiąca Jezior and in German as Land der Tausend Seen, meaning "land of a thousand lakes." These lakes were ground out of the land by glaciers during the Pleistocene ice age, when ice covered northeastern Europe. By 10,000 BC this ice started to melt. Great geological changes took place and even in the last 500 years the maps showing the lagoons and peninsulas on the Baltic Sea have greatly altered in appearance. As in other parts of northern Poland, such as from Pomerania on the Oder River to the Vistula River, this continuous stretch of lakes is popular among tourists. [by Wikipedia.org]
Offer - luxury willa and boats for rent
The house itself has 244 square meters surface (2626 square feet). It is equipped with a modern gas heating system, and a fireplace, therefore it can be used throughout the whole year. There are a sitting room, a dining room and a kitchen on a ground floor. On the second floor there are a large room with a view of the lakes and two bedrooms with two beds each. The whole plot is fenced off and has more than 1700 square meters (18300 square feet). There is a parking lot inside, a volleyball field, a campfire and an outdoor grill site.
An Omega sailing boat, a fishing boat with an engine and an ice boat are in guests` disposal. During a winter time we offer specific wintertime activities such as sleighing parties, under-ice fishing and running skis` excursions.
We are particularly interested in letting the house as a whole, however single rooms may be rented as well. Rates as follows: one room - 60 PLN per night, whole house - 400 PLN per night.
Location
Our charming house is located on a peninsula between two large lakes called Święcajty and Mamry, in the village of Kal, some 4 km south of the Węgorzewo city. This particular area of the Mazurian Lakes offers a lot, not only the sun and clear water but also amazingly beautiful scenery. There are many tourist attractions nearby such as the Boyen Stronghold in Giżycko city, remains of Hitler`s secret HQ named the Wolf`s Lair in Kętrzyn city, the catholic cathedra in the vicinity of the village of Święta Lipka, a skiing slope operating in a winter time in Goldap city (all situated within 45 km radius).
Gallery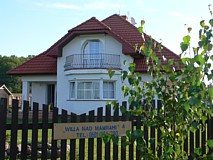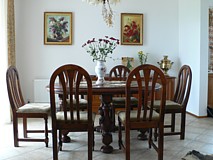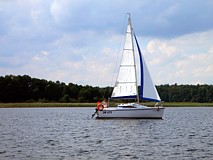 More - at our gallery (8 photos)
Contact us
Please contact us by phone: +48 87 4272420; +48 514 753 838; + 48 667 674 790